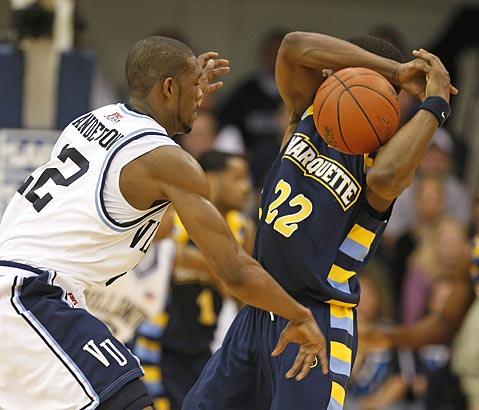 Last Night's 102-84 win against Marquette shows why the Wildcats are a dangerous basketball team. They have enough shooters to simply beat you into submission. The key to this team i'm sure you all know though is the emergence of Dante Cunningham as a dominant force in the middle. In the 13 years I have been following Villanova basketball; he may be the player who has improved more the most over the course of his college career. His performance this season has been nothing short of heroic. As good as Cunningham was last night with 15 points, Scottie Reynolds stole the show by scoring 27 points on 5-11 shooting beyond the three point arc. Scottie seems to show up in big situations and is simply unflappable. No matter how well or how poorly he is doing, there is always the same expression on his face.. yes Scottie is perpetually in the zone. Scottie is by no means the most talented guard on the team, but he uses his skills as well as his tremendous mind for the game to maximize his output. Another story that has emerged of late is Shane Clark's sudden emergence as an offensive threat for the 'Cats. When Shane Clark scores, Villanova wins it's very simple. Getting Clark involved with the offense in recent games has taken a lot of pressure off of Cunningham and Reynolds because now he's a player that the opposing defense needs to account for as opposed to a guy who a team can play half assed defense on in order to focus more attention on one of the stars. The emergence of Corey Fisher in the past month and a half has been a huge factor in the success of this basketball team. With Fisher and Reynolds on the floor at the same time, Scottie is able to move around off the ball and look for open shots not to mention the fact that Fish is a fearless penetrater and makes some ridiculous off balance layups that look like they should be happening in Rucker Park as opposed to The Pavilion.
One item that should concern 'Nova fans after the game is the apparent knee injury to Dwayne Anderson in the second half last night. Dwayne has been arguably the team's most consistent player since he was inserted into the starting lineup in the middle of last season. All we can hope is that he's ok.
image courtesy of philly.com
In other news.. all 4 of Villanova's incoming freshmen, Dominic Cheek, Mouph Yarou, Isaiah Armwood, and Maalik Wayns were nominated to play in the McDonald's All American Game on April 1st the 24th anniversary of the greatest moment in school history. This news is virtually meaningless because hundreds of players are nominated each year.