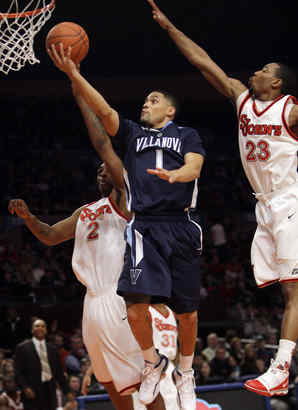 Villanova
continued its
Big East
Tour de Force by beating
St. John's
81-71 at
MSG
on Saturday. The win pushes
The 'Cats
to 18-1 which matches the best start in school history. They are also 7-0 in Big East Conference play for the first time in school history. What amazes me about this team is that they can cover big deficits and win despite playing poorly.
It Makes Me Happy When:
I see a team with depth like this. It's very rare to see a legitimate eleven-deep team, but that is what Villanova is this year.
It Makes Me Sad When:
Villanova does not play 40 solid minutes. I would love to see a game where they put everything together for two full halves, but that has yet to happen.
National Update:
The 'Cats should be ranked third this week with
Texas
losing twice. This year, more than any other The Big East is head and shoulders above the rest of the country. Every other conference except the
Big 12
appear to be having down years. It also pisses me off that the fellatio campaign of
John Calipari
is going to continue until
Kentucky
loses.