Traditional Kentucky "White Out" Attire
Villanova
will travel to the
Bluegrass State
on Monday to take on
Rick Pitino
's
Louisville Cardinals.
To say
2009
was shitty for
Pitino
would be an understatement.
Louisville
failed to meet lofty expectations in the
NCAA Tournament
,
there was an extortion attempt against him
that
unraveled a web of infidelity
which only added to the fact that he now has to compete against
another greaseball coach of questionable ethics
for supremacy in his own state, a state that he has ruled since returning to
Kentucky
to coach
The Cardinals
in
2001
. This season has been a crappy one so far for Louisville as they have three losses to teams from mid major conferences. Even though I think Villanova is the better team, I don't expect
The 'Cats
to walk all over
The Cards
because Pitino should be busting out his secret weapon,
The White Suit
.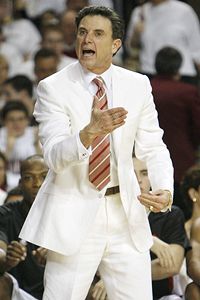 Contemporary Kentucky "White Out" Attire
The suit is yet another excuse for
Dick Vitale
to suck Pitino's cock (as if he needs an excuse to do it) even though it looks
absolutely ridiculous
. Does this guy think he's
Jay Wright
? I personally think that
Pitino is more suited for a leisure suit
.
What I Want From This Game:
A convincing Villanova Win
What I Expect From This Game:
A Close Game In Which Louisville gets far too many open looks from outside.
Offensive Keys To The Game:
Villanova must find a way to break Louisville's press. Villanova is well equipped to handle the press as they are athletic, deep and have big men who can handle the ball which should lead to transition opportunities if they are able to consistently break the pressure. While breaking the press
is
key, The 'Cats must also make better use of the shot clock than they have recently. Firing shots with 25 seconds left on the shot clock is counterproductive when you have a big lead and it almost cost us against
Marquette
on Saturday.
Defensive Key to The Game:
This one is simple, defend the three pointer. I hate seeing three pointers rain down on The 'Cats but it keeps happening. If Villanova figures out a way to defend the three with better success, then they will live up to their potential. Until they figure out a way to defend the trey, we should be in for more close finishes, even against inferior opponents.
Scottie Watch:
With
1,885
points for his career,
Scottie Reynolds
needs
115
points for 2,000,
359
to pass Kerry Kittles' all-time men's scoring record of
2,243
and
524
to eclipse
Shelly Pennefather
's points record (men or women) of
2,408
(highly unlikely.)
Entering the Louisville Game, Scottie is ninth all time on Villanova's Men's Basketball scoring chart the next person in his path is
Randy Foye
who scored
1966
points during his career on the
Main Line
.