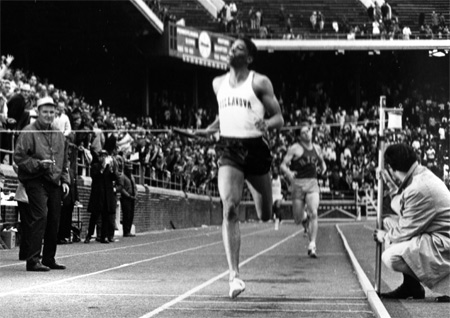 Larry James at the Penn Relays
Earlier, I did a piece on
whether or not Kerry Kittles' career scoring record is unbreakable
, and I decided to look through the
Villanova
record books in various other men's sports (track, basketball, and football) to name other unbreakable records. Up first is track, the sport in which Villanova is historically the greatest. Some of these records could theoretically be broken, but there are several that I can guarantee will not be broken in my lifetime. I'll divide them into two categories- "probably unbreakable" which means that it's in the realm of the possible but still unlikely to be broken, and "unbreakable", meaning they won't be broken without drugs.
Probably Unbreakable
-
Event
Mark
Athlete
Date
100m 9.9(ht) Salaam Gariba 4/6/1991
200m 20.4 Paul Drayton 9/13/1964
800m 1:43.92 John Marshall 6/24/1984
3000m steeple 8:18.57 Amos Korir 6/6/1984
110m hurdles 13.38 Erv Hall 10/17/1968
400m hurdles 48.80 Kareem Archer 5/25/1997
5000m 13:20.7 Sydney Maree 6/2/1979
10,000m 28:21.5 Sydney Maree 4/11/1980
Unbreakable
Event
Mark
Athlete
Date
400m 43.97 Larry James 10/18/1968
1500m 3:32.20 Sydney Maree 9/12/1981
Mile 3:48.83 Sydney Maree 9/9/1981
4x400m 3:02.95 Grant Davis 6/7/1986
Tony Valentine
Edwin Modibedi
Charles Jenkins, Jr.
Of all the records in Villanova history, the safest in my opinion is
Larry James
' 43.97 second time set in his silver medal run at the Mexico City Olympics in 1968, a time that still has him as one of the ten fastest 400m runners of all time. Other than that,
Sydney Maree
is the king of the unbreakable records, with basically every single Villanova school record at the middle distances.