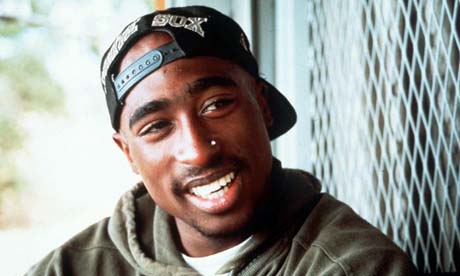 If I were to pick my favorite rapper of all time, it would have to be
2Pac
. Not only did he produce a massive catalog in his all too short 25 years of life, and also because he gets lumped in all too often with
The Notorious B.I.G.
I have no problem with
Biggie
.. I enjoy his music as well, but a guy who made two albums shouldn't be in the same conversation as someone who had more than two
number one
records.
Pac
was also one of the most versatile rappers ever; he had a family background that made him extremely perceptive to issues of justice in his community, he was extremely well read, he was a budding actor, and he could cut a track that would have you thinking critically about justice while simultaneously getting the uncontrollable urge to nod your head with the beat. Upbeat songs like
I Get Around
and
California Love
fit in his repertoire just as well as his more socially conscious songs like
Brenda's Got a Baby
and
Changes
did. Part of that brilliance is due to him having one of the great producers ever in
Dr. Dre
, but Pac could write rhymes as good or better than anyone. That versatility is why in my mind, there will never be another Tupac Shakur.
The saddest thing about 2Pac's death is that he was almost two years younger than
Jay-Z
, making it conceivable that he could still be producing great records, but he was silenced far too early.
Music after the jump
First up is
Dear Mama
from his third studio album
Me Against the World
. An ode to his mother Afeni,
Dear Mama
was released when Tupac was in prison in New York State on sexual assault charges. For my money, this is the greatest rap song ever written and it's the song I played for my parents to prove them that not all rap was a bunch of chauvinistic crap.
Next is
Brenda's Got a Baby
, the first single off of his debut album
2Pacolypse Now
. While horribly depressing, this song achieves its purpose, and that's the mark of gifted writing. Teen pregnancy is a huge issue, especially in the inner city and 2Pac did a better job tackling the issue than any after school special or middle school health class video would have.
The most popular song of his greatest album, and the first single released after 2Pac was released from prison, California Love opens with Dr. Dre espousing the "virtues" of his home state. Of any song by Pac, this one was meant to make money, and that it did. I remember watching MTV back when I was 7 years old (back when they actually played videos) praying that this music video would come on. This is also probably the first hip hop song I ever learned all the lyrics to. Watch the entire video, it's a classic.
No collection of 2Pac songs would be complete without a posthumous release, and Changes happens to be the greatest of all them. Sampling The Way it Is by Bruce Hornsby, a song about the struggle for civil rights, Pac writes his own civil rights anthem. The song did demonstrate that he wasn't a very good prognosticator, since a little over a decade after the song was released, we in fact have a black president. I'll give the guy a break though.
Rest in Peace Tupac Amaru Shakur.