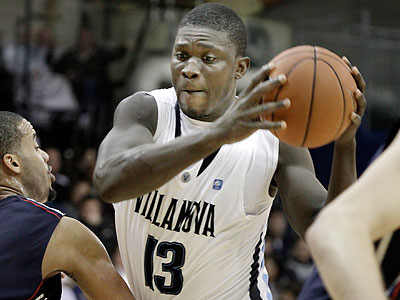 In a season where
Villanova
has proven to be a young team that is deeply flawed on defense, it probably isn't a good thing that they're playing a top ten team that has one of the most efficient offenses in America, but they happen to be facing exactly that when they play
Missouri
tonight at
Madison Square Garden
. Despite being near the bottom of the country in rebounding, (an overrated statistic,) Missouri is one of the highest scoring teams in the nation, partially because of the fact that they turn the ball over less than ten times per game, and partially because they make 52.5% of their field goal attempts.
Entering Tuesday's game, Missouri is ranked tenth in both polls, eighth by
Ken Pomeroy
, and ninth by
Jeff Sagarin
. Villanova, on the other hand is unranked, 54 and 116 using the same standards. If you're willing to count this game as a true neutral site, Sagarin's ratings say that Villanova should lose by 14 points, and Villanova is currently an eight point dog according to betonline.com, and as
I noted yesterday
, Villanova is pitiful against the spread since the latter part of last season.
Villanova wins if:
They suddenly learn how to play defense in a game against one of the most efficient offenses in the country.
Villanova loses if:
They play like they have been playing
Maalik Wayns three point miss counter:
Through seven games this season,
Maalik Wayns
has missed
23
three pointers this season while making only 10.
The old school rap song of the day is Straight Outta Compton by N.W.A