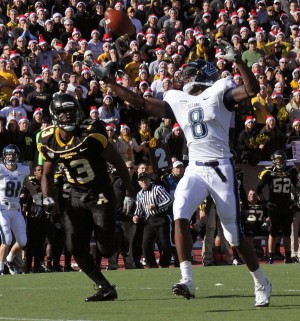 With
national signing day complete
, and the
Villanova
basketball team sucking, it's a pretty good time to get excited about three things:
Villanova Track
Villanova Lacrosse
Villanova Football
I know that football season is still seven months away, but there's still a lot to talk about, and a lot to be excited about. I'm going to run through some key numbers as a primer for spring practice, which should start sometime next month.
0
- The number of games that All-American wide receiver
Norman White
played in last season.
7
- The jersey number of former quarterback Dustin Thomas, who will switch to wide receiver this offseason.
21
- The number of starters returning next season.
15
- Times
Chris Polony
was sacked last season- Too many. Both the offensive line and
Polony
need to do something about this.
1912
- The year in which the last
Penn victory over
Villanova occured.
9
- Losses in 2011, the most in the Andy Talley era.
7.7
- Yards per carry by
Jamal Abdur-Rahman
. Those are
Brian Westbrook
type numbers.
92
- Total tackles by Dillon Lucas in his freshman season.