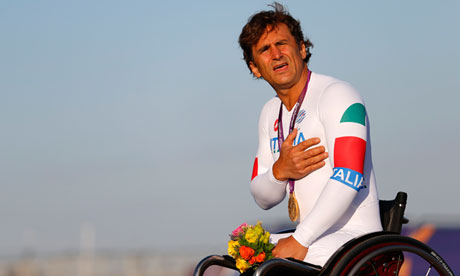 I don't know if you remember it happening. I only vaguely do, because I was not a racing fan at the time.
In 2001, Alessandro "Alex" Zanardi was one of the best drivers in the world. A smooth talking Italian who gained a fan base because he was affable, funny, self deprecating, media savvy, the
ballsy
way in which he raced, his then-unique
post race celebration
, and most of all, the fact that he was great with the fans.
Alex Zanardi lost his legs in a horrific racing accident in Germany just days after 9/11, and he probably should have died. He didn't die, and he didn't stop racing. The Pineapple (as his fans affectionately refer to him) switched from IndyCars to touring cars, where he won several races, before retiring from auto racing entirely and devoting himself to hand-cycling. Last November, he won the New York Marathon's hand-cycling division, and yesterday he capped that off by
winning the hand cycling time trial at the 2012 Paralympics
. Every time I think that some part of my body hurts, or that my life sucks, I remind myself that a man who lost his legs and his career in a split-second is in Italy training on a hand-cycle, and is smiling because he survived that horrible accident almost 11 years ago.
Thank you, Pineapple for inspiring me every day.